Sienna Miller: It's "human instinct" to be "selfish" when you're in love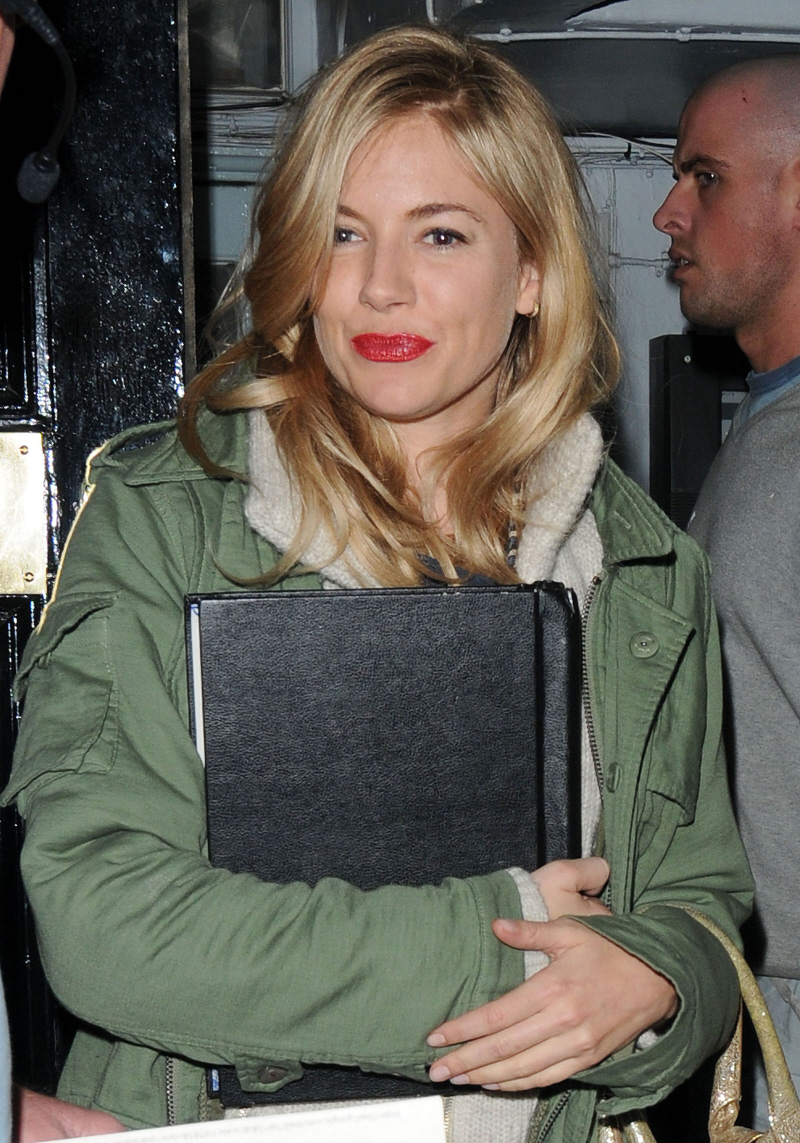 These are new photos of
Sienna Miller
exiting rehearsals for the play Flare Path in London yesterday. She looks good - minus the too heavy and slathered-on red lipstick. Considering she was just in a theatre rehearsal, why the "hooker at night" lipstick? Nevermind, it's Sienna. Anyway, Sienna has finally spoken out about her most recent split from Jude Law, and the subsequent rumors that she was boning every guy she saw post-split (and maybe even pre-split):
Sienna Miller finds suggestions she dumped Jude Law for a co-star "laughable".
The 29-year-old actress — who called time on her 13-month relationship with the "Alfie" star in January — insists the split was "amicable and mutual", and slammed recent rumours she is dating Joe Armstrong, who she stars with in London stage production "Flare Path," as "ridiculous".
She said: "I'm single! Poor Joe is like, 'What's going on?' We all find it ridiculous and laughable. I do feel very picked apart by it. When two people have separated and have both stated that it's amicable and mutual yet, regardless of that. It's not a nice feeling to have people talk about you behind your back and for it not to be true and for you not to be able to retaliate."
However, the "Edge of Love" star — who first dumped Jude in July 2005 after it was revealed he has been having an affair with his children's nanny Daisy Wright - admitted it is "human instinct" to be selfish in relationships.
Sienna added to Time Out magazine: "I think there's a human instinct to be selfish, especially in matters of the heart."

[From Time Out via CTV]
Poor Sienna! Can't she just bone people quietly without anyone saying anything? It reminds me of her reaction to being photographed topless with a married man - it was basically the same,
"Woe is me, I'm SO MALIGNED"
crap. Besides, given her sexual history, it does seem like the tabloids were picking off low-hanging fruit when they claimed she might be having a romance with any of the dudes she was photographed with immediately after her split from Jude. And seriously, it's not like Sienna is one of the top celebrity women or anything - she's a B/C-list actress who is more famous for who she dates and what she wears.
Speaking of Sienna being a victim,
Now Magazine
(a British tabloid) has a funny story about the on-going feud between Sienna and Kate Moss:
We know Kate Moss is never going to choose Sienna Miller as a bridesmaid, but after 8 years of feuding you'd think the two would be bored of falling out. Not yet, according to our spies!
Just weeks after Sienna, 29, and Jude Law called off their wedding, sources tell Now: 'Kate's delighted they've split for good and she's been calling Jude to make sure he's OK.'
To add insult to injury, 37-year-old model Kate, who's planning a July wedding to fiancé Jamie Hince, has said she'll help Jude find a new girlfriend.
'She's made sure he can come to her big day,' says the pal, 'and she's promising to find him his dream woman by the end of the year.'
However, friends in camp Sienna tell us she's peeved at Kate's interference.
'She's finding Kate's behaviour upsetting,' says a friend. 'She thinks it's immature. She can't believe Kate's being so indiscreet.'
[From Now Magazine]
Hahaha, the idea of Sienna bitching out someone for being
indiscreet
is hilarious. Kate has been on Sienna's ass ever since Sienna dated and dumped Rhys Ifans, a close friend of Kate's. I believe that Kate even warned Sienna that if she (Sienna) broke Rhys's heart, Kate would cut a bitch. Sienna promptly dumped Rhys for the very married Balthazar Getty, and Rhys eventually recovered from being Sienna'd.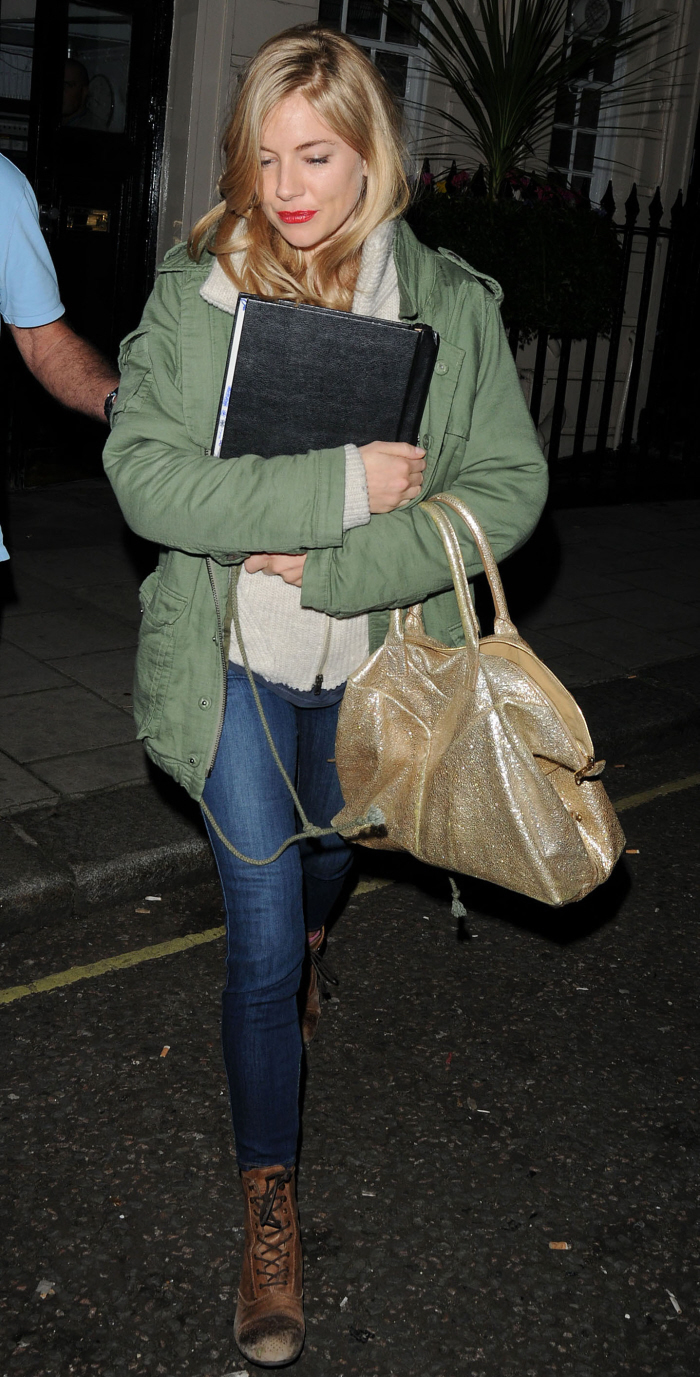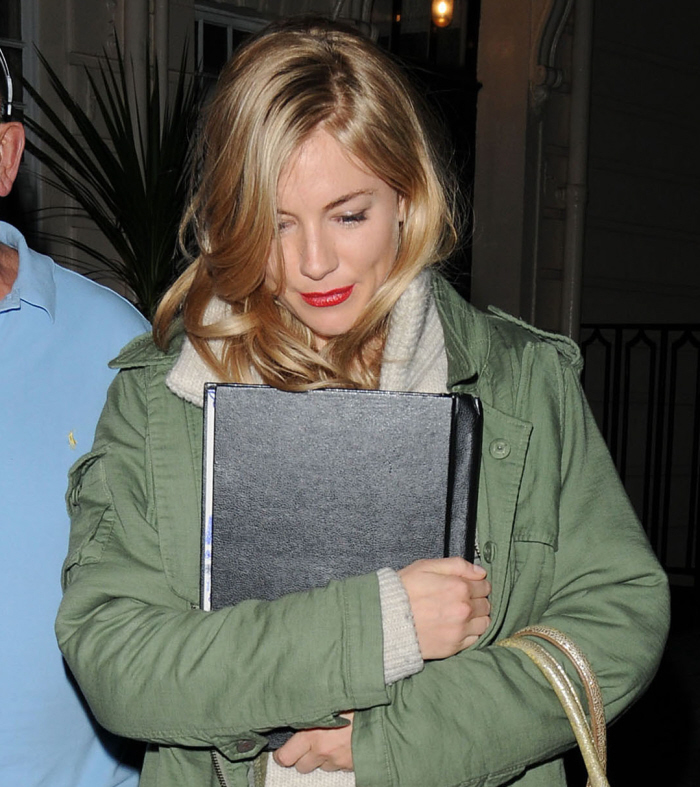 Photos courtesy of WENN.