Hugh Hefner and Crystal Harris plan 'intimate' wedding w/ 300 guests June 18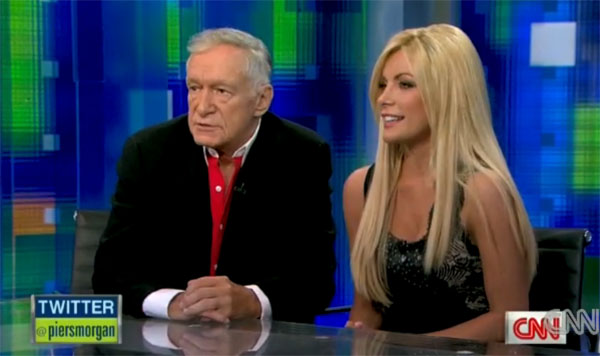 America's favorite Octogenarian titty mogul and his 60 years younger fiance have set a date for their upcoming wedding.
Hugh Hefner
's rep tells US Weekly that it will be an "intimate" affair attended by less than 300 guests and will take place at the Playboy mansion on June 18. That will hopefully be enough time to de-louse the mansion after that big Legionnaire's outbreak earlier this month.
US also reports that Hef's bride,
Crystal Harris
, will wear a dress by designer Romona Keveza. I'm not familiar with that designer, so I googled the dresses and they're very traditional, classic and romantic. For all you can say about Harris, she will probably look gorgeous on her wedding day to a guy old enough to be her great grandfather.
Harris was recently profiled in a piece in The New Yorker about her upcoming wedding. She revealed that she's going for a "romantic" theme, with a color palette at the reception that her wedding planner describes as "
silver and white, and maybe a blush underlay
."
As for what attracts him to
Crystal Harris
and other very young women, Hef recently said that "
you do give up something in the process
," but "
There is something wonderful in the student-teacher relationship — the rediscovery, the chance to have a relationship with a younger woman. It permits you to see the things you love with a fresh eye, makes them exciting again
." I think we know Crystal's motivation. She'll put in about 10-15 years tops and then she'll become a wealthy woman before she's 40. Hef surely has a prenup but he'll provide well for her. Ms. Harris has her career and life plan all mapped out for her, she just has to keep being a pleasant and willing companion.
After I wrote all that I found this video (below and here) of Crystal and Hef on Piers Morgan discussing their wedding plans. She seems really stoked about it. Hugh said his best man will be his brother and that his two youngest sons will serve as groomsmen. (His sons Marston, 20, and Cooper, 19, are much closer in age to Crystal of course.) Crystal joked that Hugh got married in the front yard already so she asked "
if we could do it in the back yard
." They're going to have the ceremony "
in front of the waterfall, very romantic
" according to Hef.
When asked what she sees in Hef,
Crystal Harris
said "
I love Hef, we have so much fun together. He's the nicest person I've ever met in my whole life
." Probably the most generous too.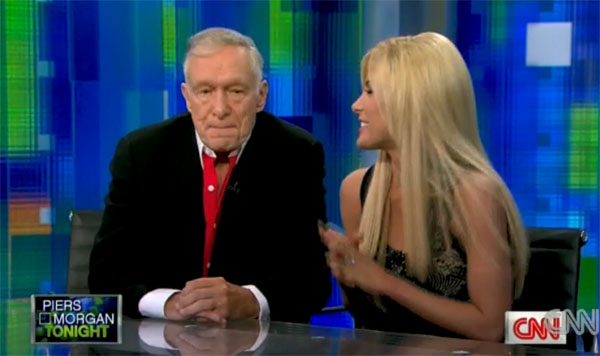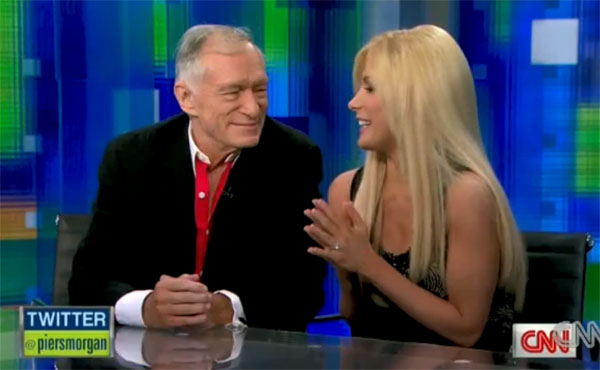 celebitchy